How to Contact HavenZone Support and open a Trouble Ticket
With many people working from home, we would just like to let everyone know the best ways to open a trouble ticket with HavenZone.
With trying to improve response time to support issues we have enabled text messaging (SMS) on our main number 718-705-7330
If you have a support question, please text it to 718-705-7330 instead of sending it to an individual's cell phone. By doing this, all techs will see the message and be able to respond to it. This should improve response time and also keep other techs in the loop as to issues going on at your location.
You can always open a Trouble Ticket by sending an email to [email protected]
Using this address will automatically open a trouble ticket. Please note you need to send the email from a company email address associated with your account to use this option. This is the most accurate way to keep track of the time a ticket was opened.
When calling to open a Trouble Ticket, you should be calling the main number of 718-705-7330 and select option 2 for Technical Support. This rings in our offices and also the cell phone of the on-call technician.
If you are on a workstation or server that is being monitored; you will notice an icon in the systray by the clock. (you may need to click the up arrow if not visible)

When you click this icon, you will see the HavenZone Help Menu.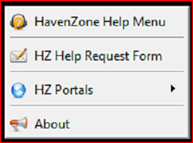 When you select the HZ Help Request Form, This will open a window on your workstation and create a trouble ticket in our system. This will also let you take a screenshot of an error message or issue you might be having.
These are the four ways to open a Trouble Ticket with HavenZone. When a Trouble Ticket is created in our system, all technicians are notified and will respond as soon as possible. With more users currently working from home and not in a central location, we want to make sure that all users get the support they need as quickly as possible.
Thank you for using the HavenZone Trouble Ticket System, and please share this information with others in your organization.