IPITOMY'S NEW IP290 PHONE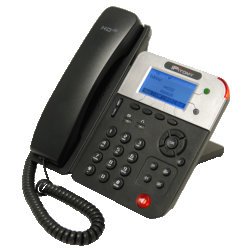 The IP290 is designed to cost effectively provide an entry level IP end point for large VoIP and IP PBX deployments such as educational facilities, government and commercial organizations.
IPitomy, a leading designer of IP PBX solutions and High definition telephones for VoIP, announces today the release of new model IP290 SIP phone to their HD lineup. The new IP290 HD SIP phone is now available to IPitomy dealers. This phone is aimed at providing IPitomy users with a robust entry level HD SIP phone that fits the needs of many business applications.
The IP290 has a 5 line backlit display that is easily viewed from any angle, and has four multifunction Soft-Keys that add to the ease of use. The 290 also supports the g.722 high definition codec providing exceptional call quality. With its enhanced audio design, the full duplex speaker phone quality is outstanding. The IP290 phone can handle up to 2 simultaneous calls has an adjustable base and integrated wall mounting. Like all IPitomy phones, the IP290 can be set up as a remote phone without additional licensing and minimal programming, allowing users the flexibility to work from home or a remote office.
As part of IPitomy's HD Phone lineup, the IP290 has all of the basic function keys most users utilize on a day to day basis, such as 3 way conference, hold, transfer, redial, voicemail and headset keys. With a small footprint, the phone fits nicely on any desk or wall, and can be utilized in most office applications. Elaine Blodgett, Sales Manager of IPitomy says, "There are many applications for the new IP290, schools, large organizations and call centers will find our new model phone an attractive option. The phone is competitively priced, and meets the requirements for a highly functional HD phone in a simple compact package."
IPitomy Communications is a premier pure voice over IP PBX system that is meeting a market demand internationally for a feature-rich, price competitive Unified Communications Business System. IPitomy designs and manufactures a complete line of IP telephony equipment including IP PBX Systems, IP Telephones, Desktop Call Manager and Call Center Software. For more information contact the HavenZone Sales Team…