USE MICROSOFT TEAMS FOR GROUP OR 1:1 CHATS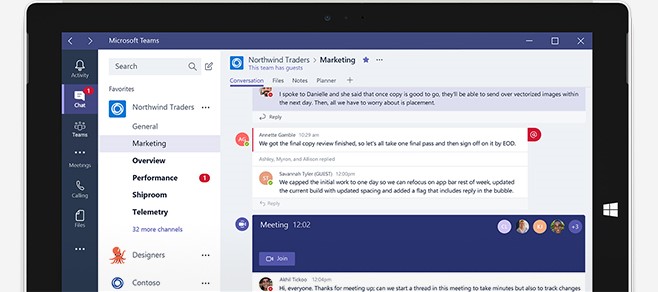 MS Teams is included with your subscription to Office 365 (FREE to use)… This is a great platform to be able to chat with other employees and share documents. There is also an iPhone and Droid App to keep in touch when not in the office. Let me know if you would like to get it set up or want more information on how to use it. MS Office 365 has many features that most people don't take advantage of. There is more than just the MS Office Desktop apps. Visit https://portal.office.com and see other features you could be using.
Teams is a powerful tool to keep in touch with your coworkers, whether it's our whole organization, smaller groups, or just you and a colleague. With persistent chat history in threaded conversations—plus colorful ways to express yourself with memes and GIFs—it's just what our company needs.
Make your conversations more productive
Find out how to use the reply, @ mention, and other functions of Teams chats to effectively communicate, even when your coworkers aren't online at the same time.