Document Management Software Made Easy
Most offices spend 1-2 hours a day managing files. Our users spend 10-20 minutes to get the same work done.
FileCenter, the low-cost leader in document management, only concerns itself with one thing: setting you free. End the struggle. Shed the weight of paper and complex software. Discover what thousands of users like you have already found.
Manage & organize files from a single, unified interface
Powerful file management software needs not be complex. Organize your files, scan your paper documents, edit your PDFs, and search your archives from one clean, simple interface in a way that makes sense: electronic filing cabinets. These cabinets use a familiar Cabinet/Drawer/Folder layout, in an easy left-to-right flow. Cabinets "overlay" regular Windows directories automatically, so you can view your existing files in cabinets without importing them. You can also store any kind of Windows file in a cabinet. (If you prefer a traditional Explorer layout, FileCenter also provides an Explorer View.)
Open & save any file type
FileCenter DMS can store any kind of Windows file. It also integrates cleanly with the Save and Open functions of most programs. This means you can (optionally) replace your standard Windows Save/Open dialogs with custom FileCenter versions. Save files directly into your file cabinets from most of your programs, as part of your usual workflow – no importing necessary. Then open them again from FileCenter in your favorite applications. This integration can be enabled/disabled on a program-by-program basis.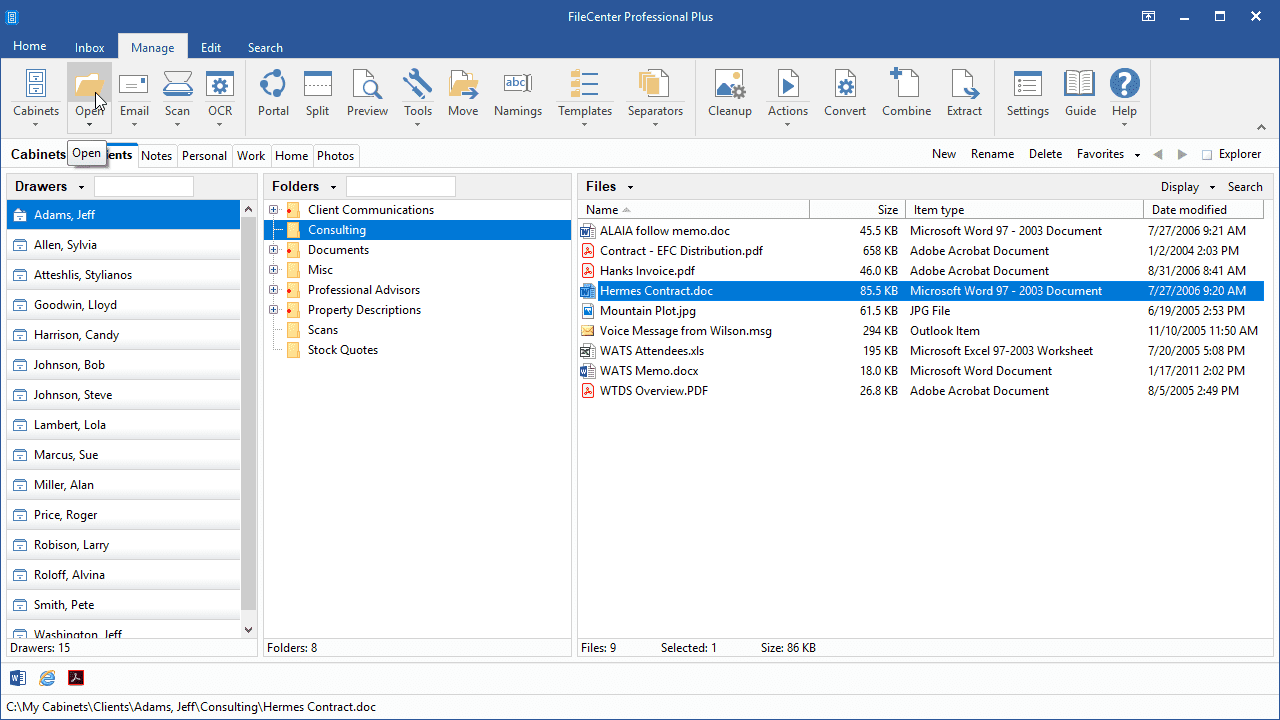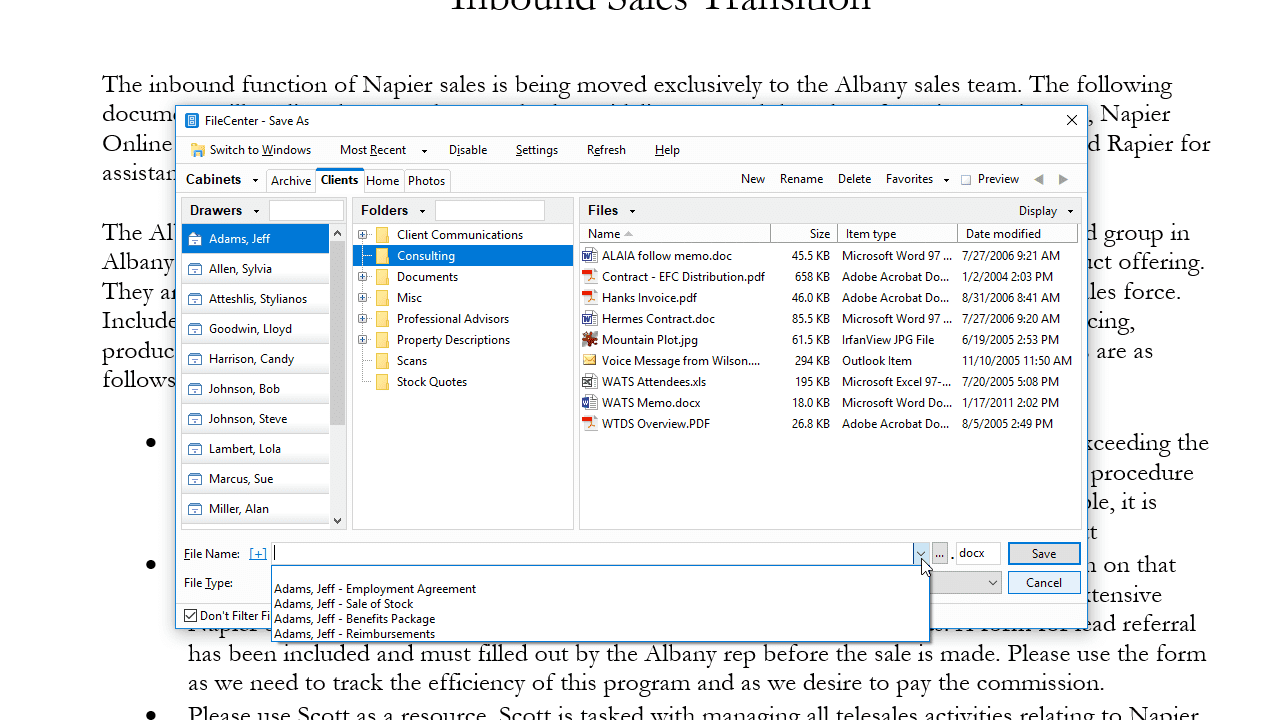 Save files with pre-defined naming rules
The most tedious part about saving a file is now the easiest: picking a name. Set up a list of your common file names. Include dynamic information if you'd like. When it's time to save or rename a file, name it with a mouse click. FileCenter DMS Professional and Pro Plus also add file naming rules known as Naming Options. These can contain dynamic information like dates, customer or patient names, and increments. You can even pull filename text from barcodes or the document's OCR text. Literally name and save your files or new scans with a couple of mouse clicks.
Manage incoming files with an inbox
If you receive a steady inflow of files to a specific folder, FileCenter DMS can show you a split view with this inbox on top, and your regular cabinets on the bottom. It's then easy to move the incoming files into your cabinets. Combine this feature with Naming Options and the Drop Renaming feature, and you can literally organize and rename dozens of incoming files with a simple drag-and-drop.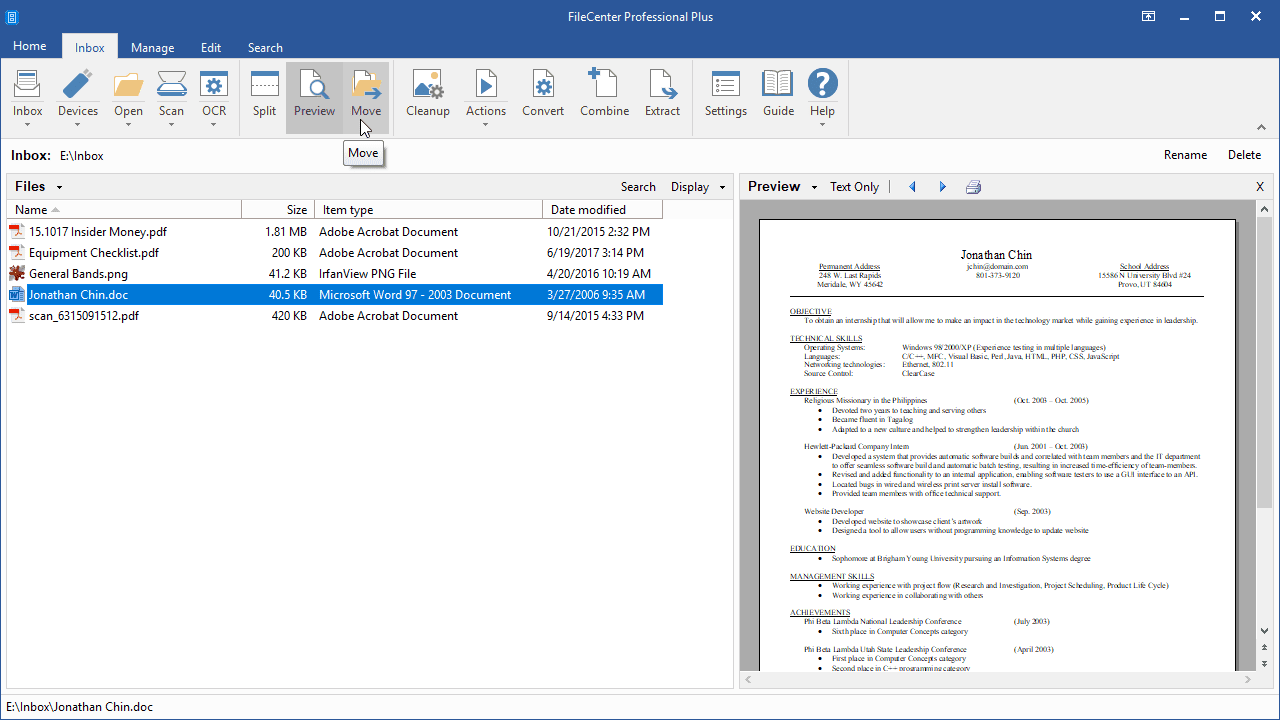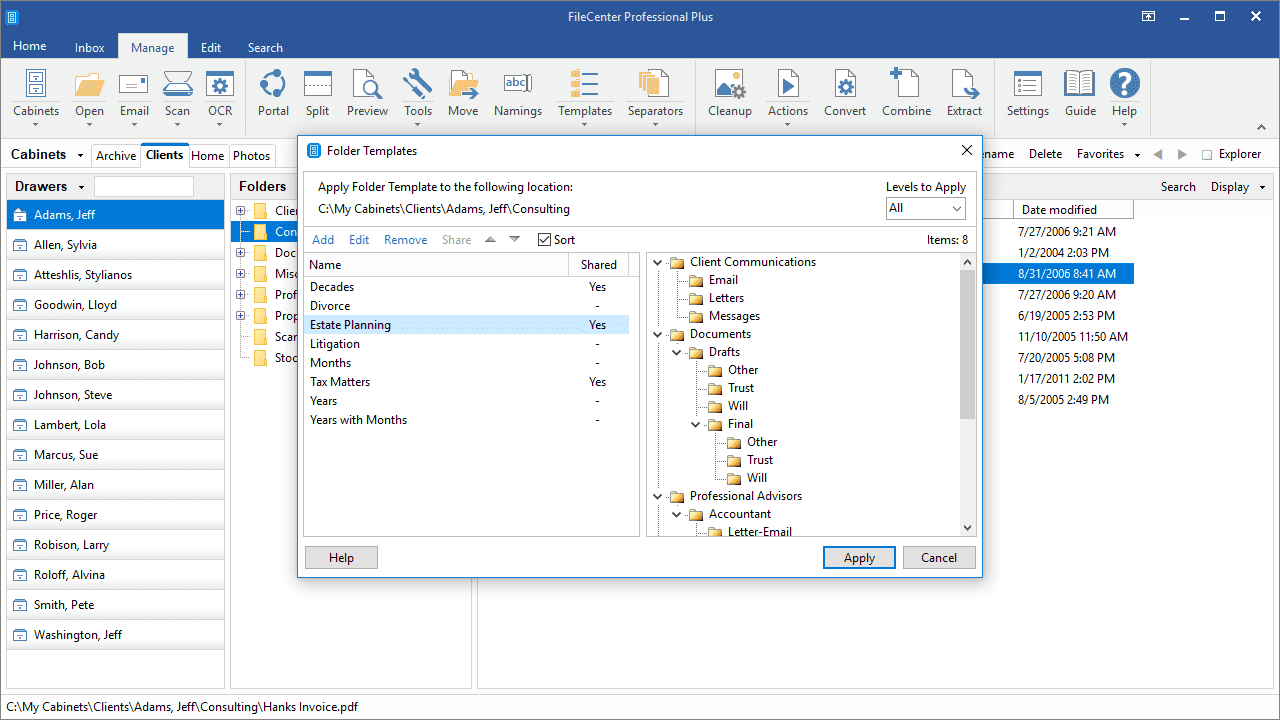 Ensure consistent folder layouts with templates
Make setting up standardized folder structures a piece of cake by turning folder layouts into reusable templates. You can define reusable folder layouts that are as simple or complex as you like, including nested folders many layers deep. You can then apply these layouts to any drawer or folder. They become especially useful when you add new drawers or folders – apply a folder layout at the same time. Consistent layouts are critical to an easy-to-use file organization system.
Quickly preview documents without opening them
With FileCenter's preview pane, you no longer need to open a document just to check if it's the one you need. Easily see real-time previews of Office, image, or PDF files on the fly, just by clicking on them. Files also have thumbnails rather than uniform icons, so you can see what's inside a whole folder at a glance. FileCenter DMS makes document browsing as easy as thumbing through a folder of paper documents.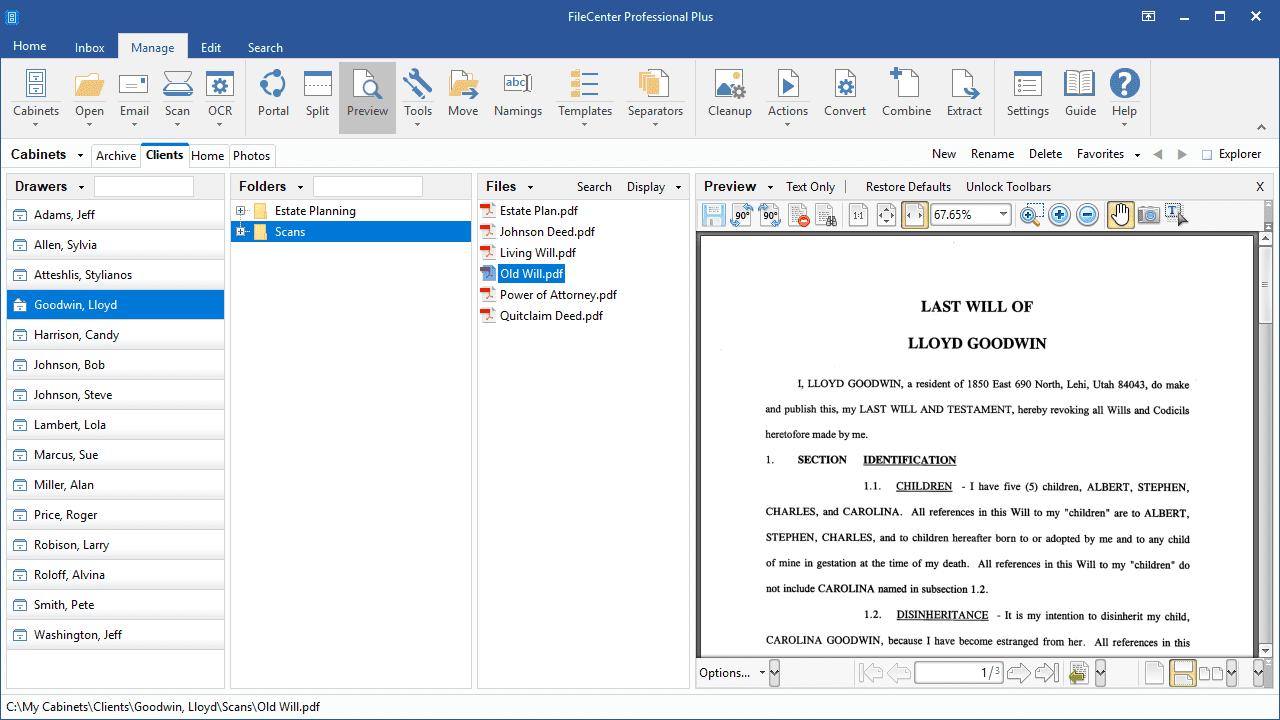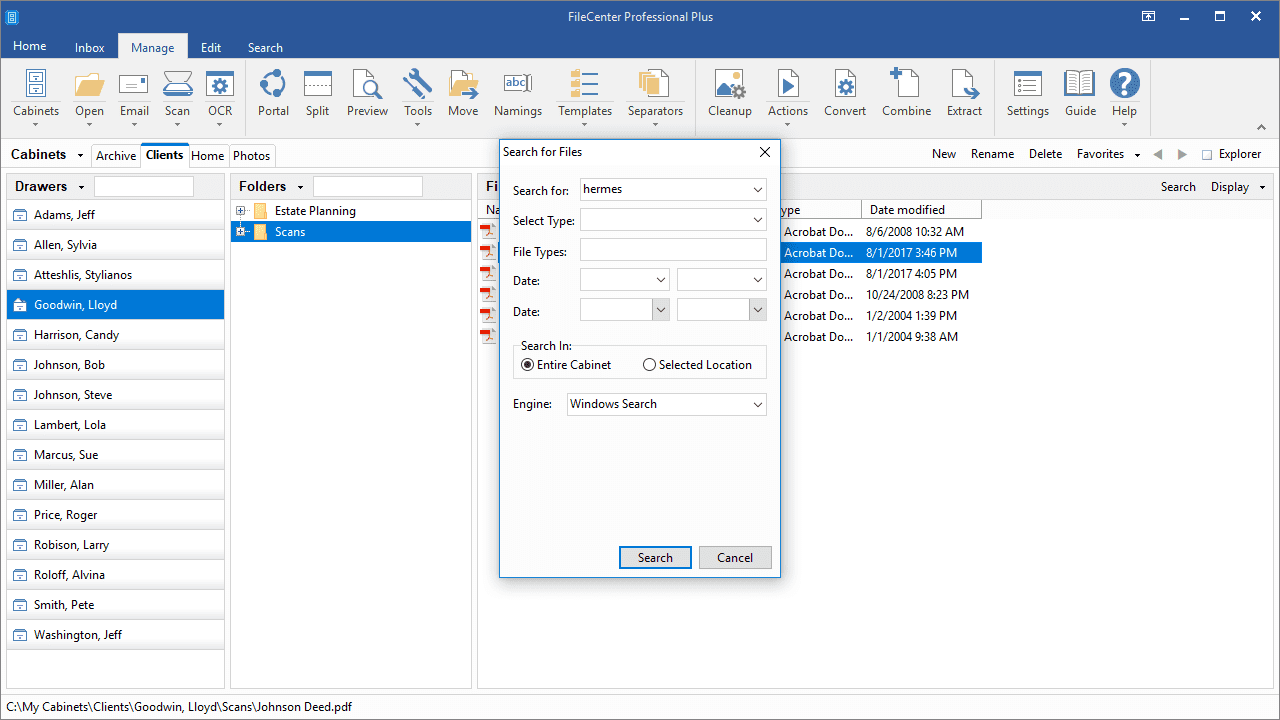 Search your desktop & network as easily as you search the web
Sometimes the quickest way to a document is a full-text keyword search. Find what you need as fast as you can type a query. Search everything, or limit your search to a specific cabinet, drawer, or even folder. With FileCenter DMS Professional, you can also search the whole network. And in-place searching lets you quickly search a drawer or folder without leaving your current location.
Send any kind of file as an attachment with a single click. Just select and send. Need to send it as a PDF? No problem, and no extra steps. FileCenter DMS can turn the attachment into an uneditable PDF, plus change its name as you attach it, or even zip up multiple files … all on the fly.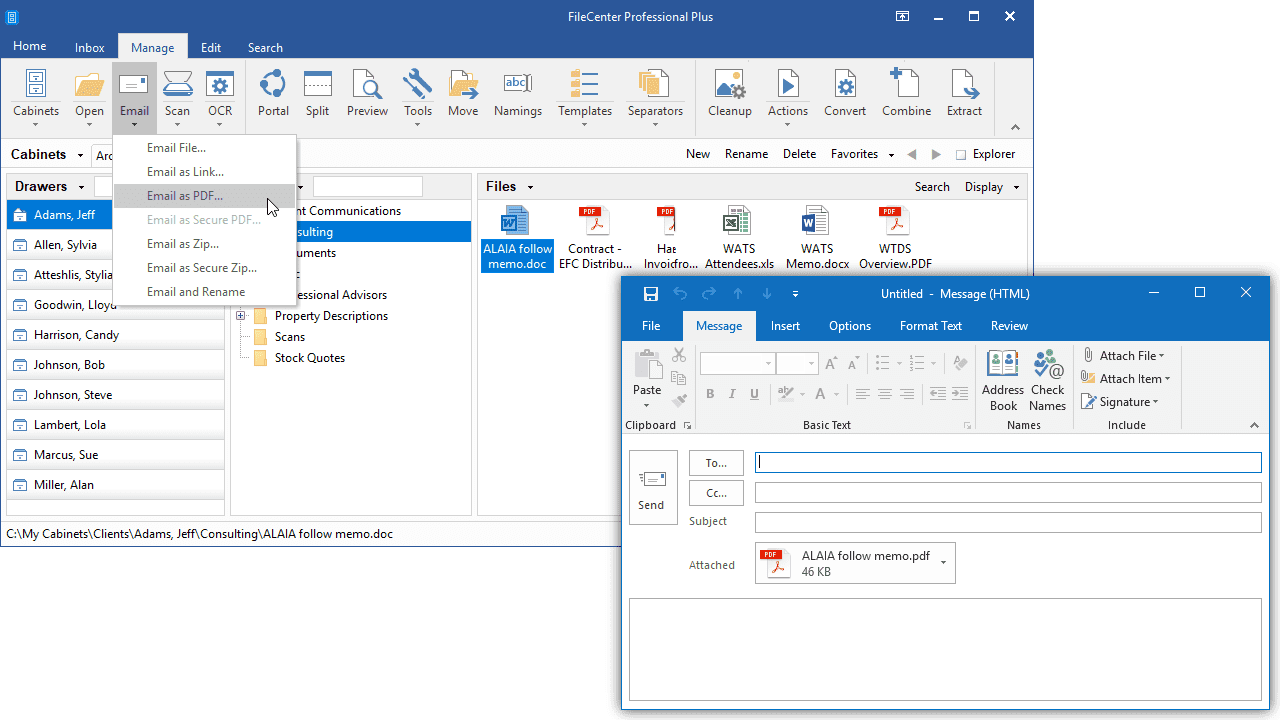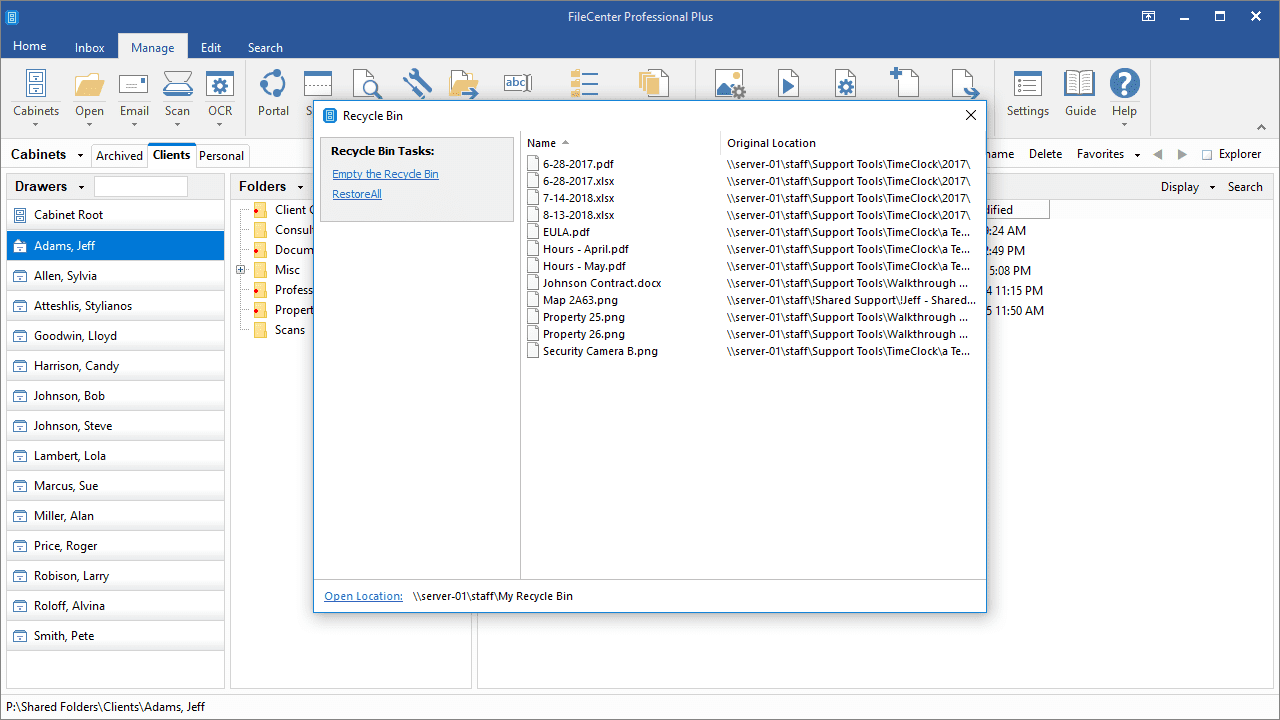 Recover deleted network files
A major shortcoming of network drives is the lack of a recycle bin. So FileCenter DMS provides its own. Once you turn this on, FileCenter will keep a copy of files deleted on network drives. That way, if you delete something by mistake, it's no longer gone forever – you can recover it from the recycle bin.
Access files in the cloud
FileCenter DMS is fully compatible with most popular cloud providers, like DropBox, SugarSync, Google Drive, and Microsoft OneDrive. Your FileCenter files can be viewed on your local PC, or through your cloud provider when you're on the go. Scanning to the cloud becomes so transparent and automatic that FileCenter doesn't even require a separate feature to do it.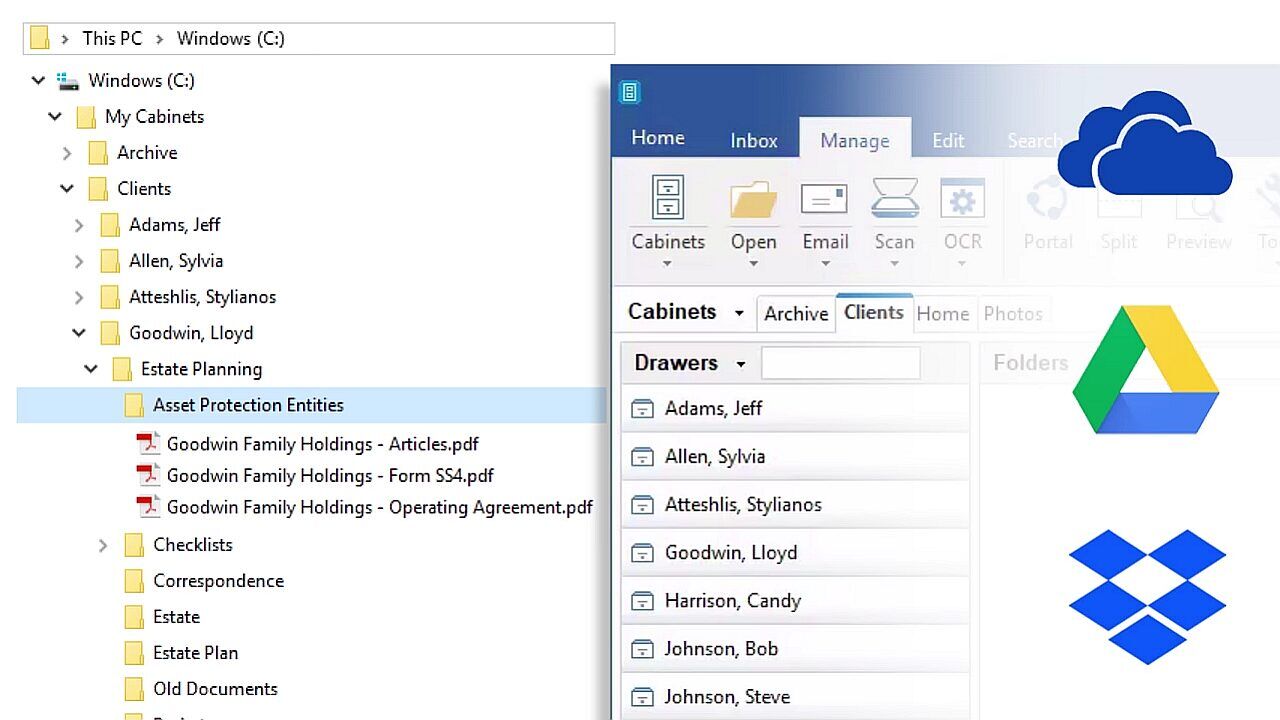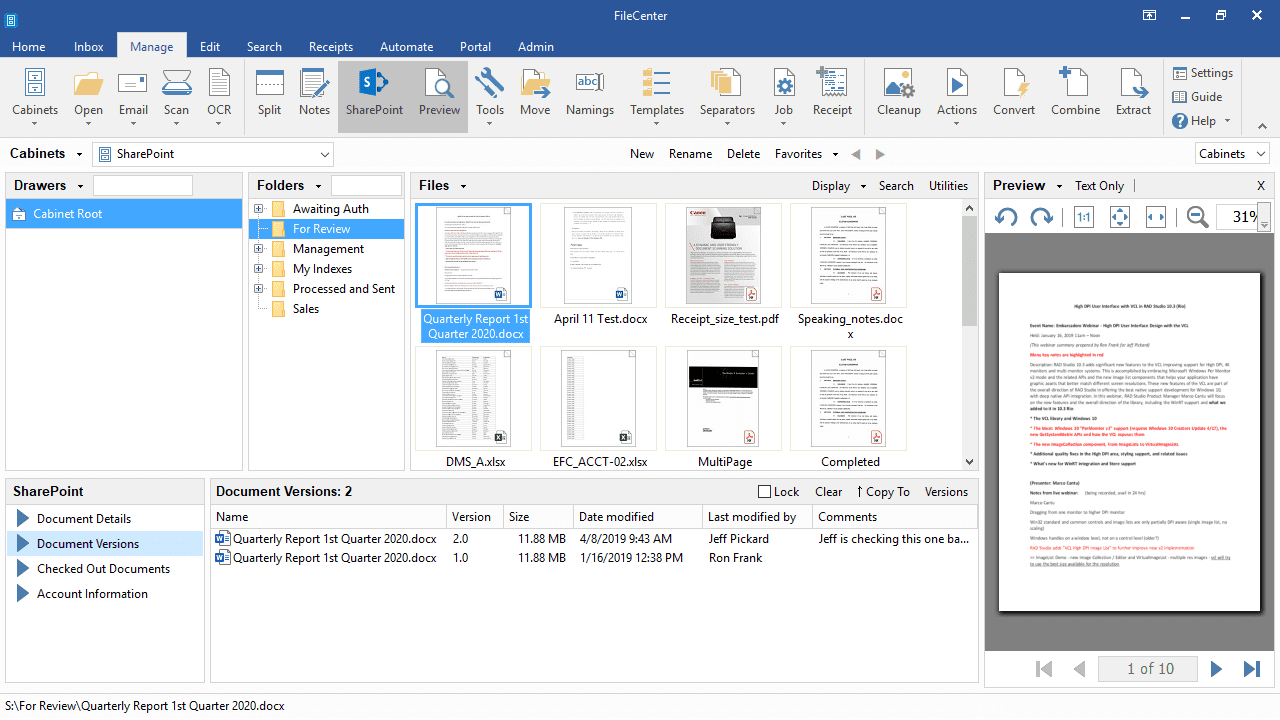 Integrate with Microsoft SharePoint
Offices that need an extra level of security and availability will benefit from FileCenter's SharePoint integration. Besides Cloud access, users can take advantage of document check-out and access the full version history of any file. Admins will appreciate that FileCenter seamlessly inherits all of the SharePoint file security rules.
Exceptionally streamlined document scanning
You're probably painfully aware of how scanning slows down an office. FileCenter DMS takes full advantage of scanners, creating an unbelievably quick and easy workflow for processing paper documents into filed, organized, and fully-searchable PDFs. You can literally move paper onto your computer as fast as your scanner will run it through – not as fast as you can fill in folder and filenames.
FileCenter DMS lets you automatically separate stacks of scanned documents, even saving them to the right client folder. You've never had a more reliable filing assistant. All the tedious tasks, like making your documents searchable with OCR, happen automatically behind the scenes. Need to scan a document into Word for editing? Email a paper document? Or maybe just add more pages to an existing scan? Not a problem … any more.
One-click scanning means you can efficiently move paper to PDF using pretty much any desktop scanner (TWAIN compatible). You can also scan and organize in one step by scanning a document directly into your current location. Just click Scan and the document will be added there automatically. For more flexibility, you can adjust the scan parameters and options.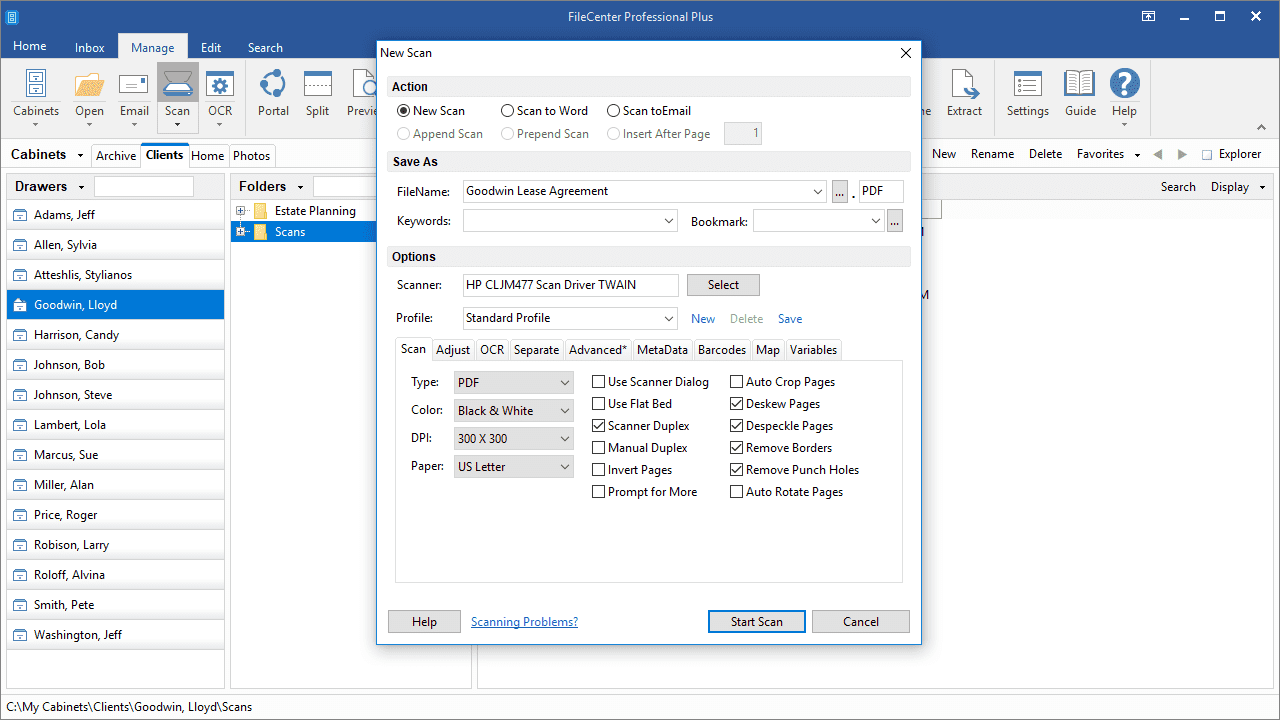 Full-fledged PDF conversion & editing suite
PDF is the standard for electronic documents, so your software should be able to make PDFs and manipulate them. FileCenter DMS has built-in PDF tools and a feature-complete PDF editor. It supports PDF creation, conversion, and editing out of the box – and it makes them easy for a novice. You can drag and drop one PDF onto another to combine them. Split documents, merge documents, and add or delete pages with similar ease. Add notes to your PDFs, highlights, or stamps, digitally sign a file, or fill out PDF forms – and do it all without leaving FileCenter.
PDF creation is just as easy. Convert any kind of file to PDF with the included PDF printer, or scan documents to PDF with the click of a button. PDF processes aren't an afterthought with FileCenter DMS; they're an integral part of the program.
Perform any kind of PDF editing from within FileCenter DMS
Why should you have to leave your document management system to work on PDFs? PDF manipulation has become so important that we built a fully-fledged PDF editor right into the program, with a tabbed interface to keep multiple PDFs open at once. You can open, view, mark up, comment, and annotate your PDFs all from within FileCenter. Insert or delete pages, rearrange them, extract them into new files, or move pages between files. You can even fill out forms and sign your PDFs with digital signatures.
Convert any FileCenter document to PDF with one click
Most documents can be converted to PDF without ever opening them. Just select the file and click Convert. You'll quickly have a faithful PDF copy without jumping through a single hoop. You don't need to open the file, print it, or even have Adobe Acrobat installed on your computer.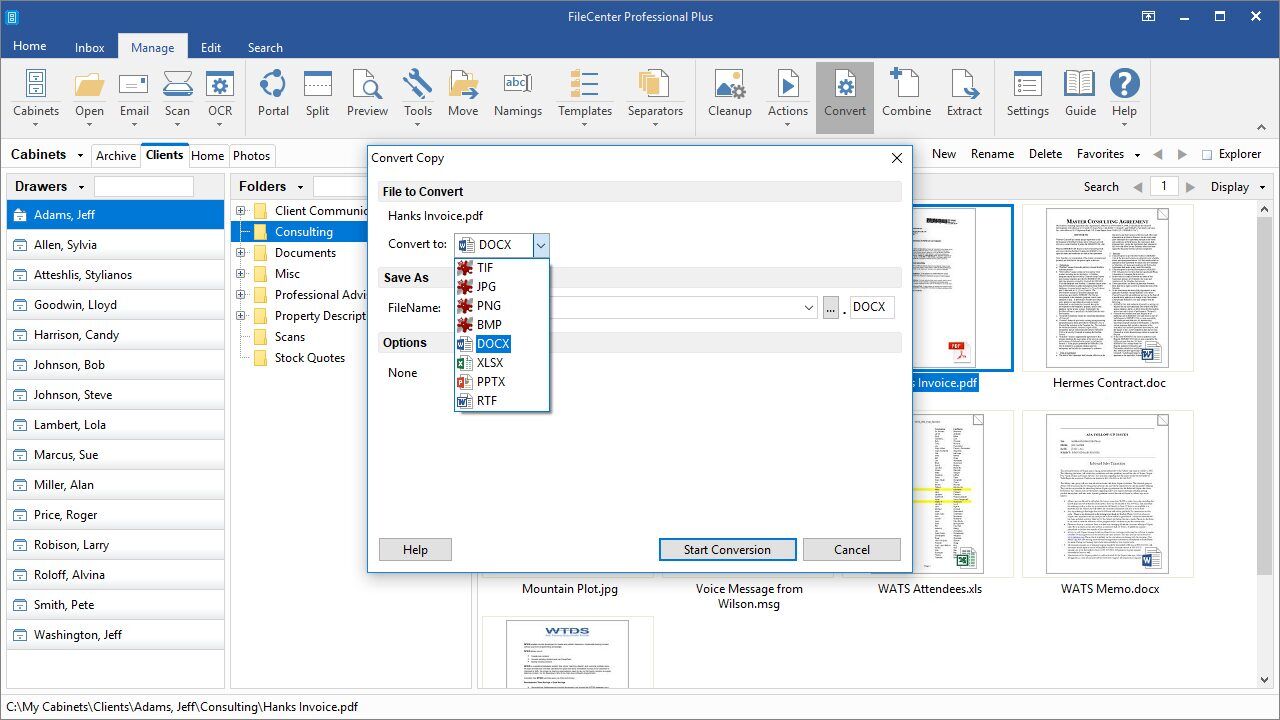 Convert PDFs to Word or Excel
Sometimes you have a PDF that you'd like to turn back into a regular Office document. Like turning a PDF of a contract back into a Word file for editing or a PDF table back into an Excel spreadsheet. With FileCenter DMS, you can go from a PDF back into an Office document in seconds. No technical know-how or expertise required.
Save anything into FileCenter DMS as a PDF
Saving documents, emails or web pages as PDFs is a snap. Just print them to FileCenter's built-in PDF printer, which will convert them to a PDF you can organize with your other files.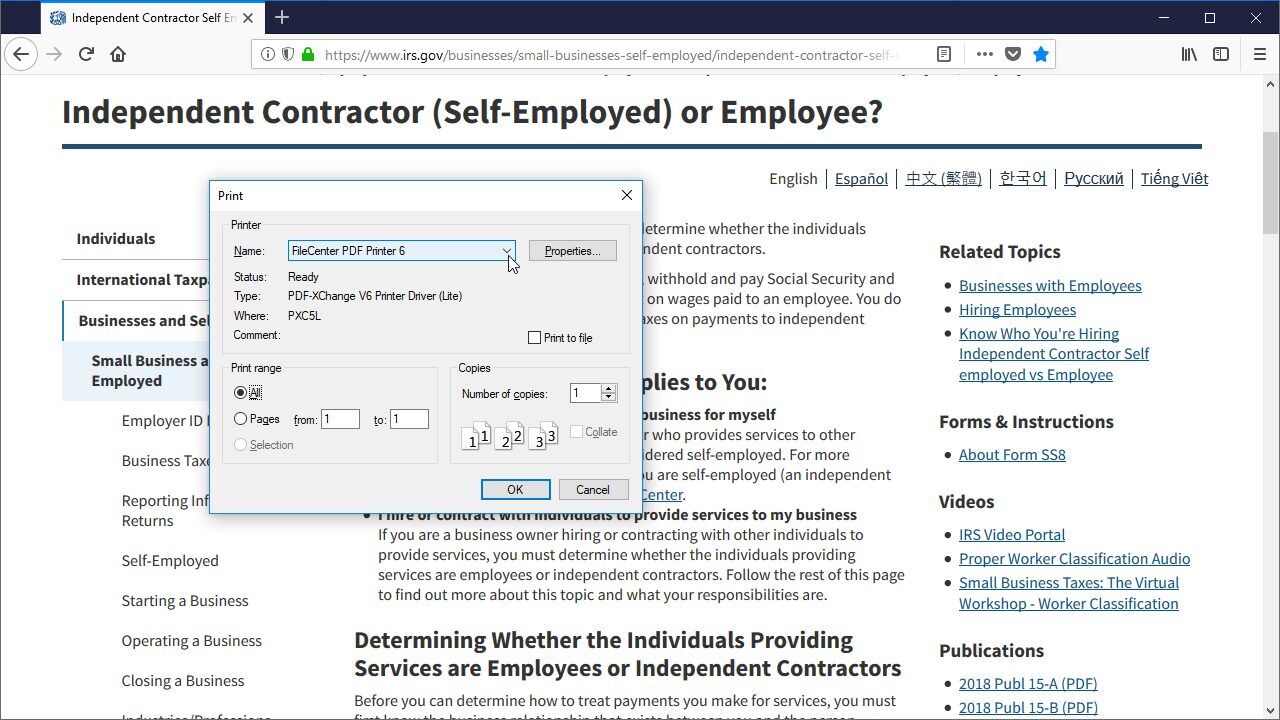 In FileCenter DMS Professional, you can "stack" or combine PDF files right inside your cabinets. Just drop them on each other. You can just as easily split apart files, insert files into each other, and pull out individual pages. Simple wizards help you manipulate your PDFs without even having to open them. Working with PDFs doesn't get any easier.
HavenZone Menu of Services & Products
Data Recovery

Failed Hard Drive Restoration

Custom Network Design

Fully managed and configured networks
Network Equipment

Ubiquiti UniFi Network Equipment

LAN & WiFi Analysis

Full audit and spectrum analysis

Audio Streaming Equipment

Russound Streaming Equipment & Amps

Audio Speakers

TruAudio Speakers and Amps

Security Cameras

Hikvision IP Cameras and Recorders
HavenZone is a one-stop solution center for all of your IT needs for your business.
Using the latest technologies, HavenZone will help your company evolve in the digital age! Helping your company be able to get more work done while cutting the bottom-line is the goal of HavenZone. With products and services offered by Advanced Voice Solutions, HavenZone can turn your work environment into a global environment.
HavenZone offers the products and services that your business needs to create a robust infrastructure...
Our Fruitful Partnerships
HavenZone has spent many years cultivating partnerships with many manufacturers and service providers. With our extensive list of products, services, and partnerships we can provide the solution you need for your company. With over 15 years of experience, we know what it takes to develop the right solution for a complete corporate infrastructure. We have standardized our clients on certain network configurations to allow for a fully managed solution that also reduces costs. This allows us to make sure your network and communications are functioning the way they should, so you can get back to running your business.