We believe content filtering and threat protection should be easy. DNSFilter® makes it simple to deploy an enterprise-grade solution at an affordable price. Without any contracts or commitments, you can be up and running in minutes.

Whether you're a Fortune 500 organization or an SMB, DNSFilter provides Enterprise-grade protection and filtering for your users. Protect your organization from costly phishing or ransomware attacks and stop infections before they happen. Our global anycast network means we scale for even the largest global businesses.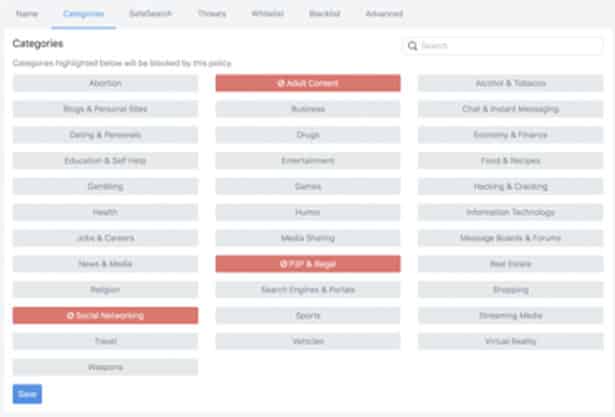 Enterprise-Grade Features
Secure the inbox, guard against threats,
and protect the business and end-users
User-Friendly Design
Just because it's behind the scenes doesn't mean it shouldn't be responsive and pleasing to the eye. We've obsessed over the design of our dashboard so you can focus on what matters most.
DNSFilter's web-based dashboard gives you a global view of all your sites and statistics with ease – regardless of size, complexity, and your location.
Protection Against Online Threats
Protect your users and networks against command and control (botnet) attacks, malware, phishing, viruses, and other threats simply by applying our security policies. DNSFilter is the only provider in the industry using security threat analysis powered by A.I. and machine learning. This allows us to keep our security threat data updated and pushed down to your networks in real-time, so you're always protected from zero-day attacks and new vulnerabilities
Web Content Filtering
DNSFilter makes it easy to deploy comprehensive and customizable URL and internet content filtering policies in mere minutes.
Simply tell DNSFilter what categories of websites you want to block – Adult Content, Illegal Content, Streaming Media, Chat & Instant Messaging, Social Networking, etc. – and we'll do the rest. Our proprietary algorithms intelligently categorize sites so you don't have to constantly maintain a list of domains.
You can even enforce Google SafeSearch, YouTube restricted modes, and filtering avoidance domains so nothing slips through the cracks.
HavenZone Menu of Services & Products
Data Recovery

Failed Hard Drive Restoration 

Custom Network Design

Fully managed and configured networks
Network Equipment

Ubiquiti UniFi Network Equipment 

LAN & WiFi Analysis

Full audit and spectrum analysis

Audio Streaming Equipment

Russound Streaming Equipment & Amps

Audio Speakers

TruAudio Speakers and Amps

Security Cameras

Hikvision IP Cameras and Recorders
HavenZone is a one-stop solution center for all of your IT needs for your business.
Using the latest technologies, HavenZone will help your company evolve in the digital age! Helping your company be able to get more work done while cutting the bottom-line is the goal of HavenZone. With products and services offered by Advanced Voice Solutions, HavenZone can turn your work environment into a global environment.
HavenZone offers the products and services that your business needs to create a robust infrastructure...
Our Fruitful Partnerships
HavenZone has spent many years cultivating partnerships with many manufacturers and service providers. With our extensive list of products, services, and partnerships we can provide the solution you need for your company. With over 15 years of experience, we know what it takes to develop the right solution for a complete corporate infrastructure. We have standardized our clients on certain network configurations to allow for a fully managed solution that also reduces costs. This allows us to make sure your network and communications are functioning the way they should, so you can get back to running your business.